Despite the impacts of the COVID pandemic the Arraluli Whale Sanctuary Project team visited country and observed the annual migration to Lulim and surrounding areas in 2020.
While we thought the whales would be enjoying some of the least boat traffic for many years, sightings inshore around the Wijingarra Butt area were not so evident when we arrived in August.
Unfortunately issues with the family boat restricted watching to the base camp at Wijingarra for only a month of observation this year.
There were regardless many sightings of the behaviour that we have come to expect and love in this apex of the annual migration for Western Australian humpbacks.
Mothers and infants undergoing feeding, nurturing and training.
Bulls engaging in symphonic breaching.
Family groups cruising up and down the corridor north and south in between Montgomery and the mainland, including inshore visiting the many bays including Langgi.
We had some chats with recreational and fishing boats in the area during the month, and received reports of whale sightings at many known locations, which was good to hear.
Some observers like us, did note that inshore sightings in the area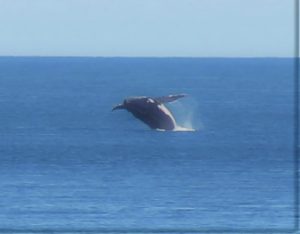 did appear to be down, particularly for the month of August which is typically peak visitation time. It is difficult given the short period of the observation to infer much from this, and whales were observed conducting all normal and expected behaviours around the base camp areas.
As always, and as if on cue, the whales did not fail to entertain us with a fabulous show on our last day, breaching and flapping only 100m directly out front of the camp.
The photos illustrating this page are taken from that session.
Bushfires upset country
Last year we experienced our own bushfire crisis, which was not discovered until the family visited to prepare for country.
Fires burned through a large section of land and the local animals and lizards and insects and birds were all very disturbed when we arrived later in the year to do our annual survey.
The fires must have been traumatic for them and several local birds with roosts in the area have not been seen this year, which is of concern. A family of kangaroos that lives around the camp is also missing and there were noticeably less sightings around the camp of wallabies, bandicoots and other animals.
It is disappointing that the fires which damaged equipment used to live in country, appear to have been human lit. We do not know if all of the fire that burnt out large areas of Luli country was similarly caused.
Un-natural fire burning can cause more damage than good, particularly in areas of last refuge for animals, like in Arraluli areas, where at risk and endangered animals like the wijingarra (northern quoll), garimba (Golden bandicoot) and local wara or kangaroo populations live.
This big boss red wara (kangaroo) has been living in our country a long time. Kangaroo is a very special law animal
We are looking forward to 2021 season to see how the wildlife and country has recovered from the fires.
Plastics continuing to be a problem
We found more plastic debris washed up on beaches this year, and sadly rubbish people left behind like these plastic bottles.
Our areas are one of the last untouched wildernesses in Australia and the world. These places are for animals and other wildlife. No visitors are allowed on land in these places.
Solar keeps our equipment going
We use solar generators for all of our electronic equipment in country.
Cameras, communications, phones, laptops, entertainment and rechargeable battery-operated equipment like torches are all powered using this set up.
It helps ensure our business is sustainable and makes sense when you working in extremely remote, but sunny, conditions.